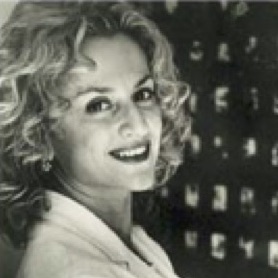 Despina Mouzaki is a Producer and Director of Films and Audiovisual Works, founder of the companies ALIPNOOS SA, BREAKING WAVE LTD, CINEGRAM SA, CINEGRAM CAIRO FILM & TV PRODUCTIONS. She is also a Professor at the Aristotle University's School of Film, as well as the Dean of the School of Fine Arts at the Aristotle University of Thessaloniki.
She earned her BS in Chemistry at the University of Patras and her ΜS in Film Production at Boston University. She continued with postgraduate studies in Filmmaking under Richard Leacock and Interactive Technologies and Art at MIT's Media Lab in Boston. She completed the Film Finance and Marketing Program at the Media Business School in Rhonda, Spain.
In 1998, Despina Mouzaki was appointed to the post of Vice-President and Associate Director of the Greek Film Center. She was the Director of the Thessaloniki International Festival from 2005 to 2010. During her term, she established several innovative programs—the Crossroads Co-production Forum, the Agora Film Market, the Salonica Studio Training Workshop, the Digital Wave Competition Program, the SEE (South Eastern Europe) Cinema Network—and she also created the Masterclasses Section and TIFF's Bilingual Publications with original texts by important filmmakers and cinema theorists. As the President of Aristotle University's School of Film, she has signed collaboration agreements with CERN, UNHCR and several universities and international film schools.